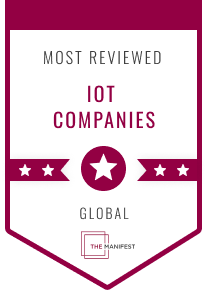 EMBIQ is incredibly proud to announce that we've been recently named as a global leader in the internet of things industry, according to The Manifest. Their team's latest press release revealed the best development companies on their platform, and we are highly honored to be named on this distinguished list.
If you're not familiar with The Manifest, it's a business news and how-to website that compiles and analyzes practical business wisdom for innovators, entrepreneurs, and small and mid-market businesses.
To be recognized by The Manifest is genuinely a massive achievement for EMBIQ. Founded in 2009, we have participated in about 300 projects all around Europe and the United States. We are not only feasible IT solution development service specialists but also partners and advisors. Over the years, we've executed more than 300 projects and worked with over 100 satisfied clients. Our specialization is creating tools for business, especially those involving locations, positioning, asset tracking, management, or innovative solutions for agriculture and more. Every project is based on the very best and the latest technologies and tools.
Our clients are the reason why we were able to receive a fantastic award from the industry. We are grateful for the significant and productive relationships we have cultivated. You've been vital to our achievement, and we genuinely couldn't have done it without you.
"We are happy that we have been chosen as one of the Clutch 100. Knowing that our clients are pleased working with us and writing their positive experiences means a lot for the whole team." – Alexey Shabalovskiy, CEO of EMBIQ
Do you need UI or UX designers? Or both? Should you create a web or a mobile app? How QA helps to keep quality high and cost low? You can ask us anything. Send us a message today!